Setting up of e-classroom Infrastructure in 50 Medical colleges
Brief Objective of the Project:
Ministry of Health and Family Welfare (MoHFW) has selected of ERNET India as Project Implementing Agency for setting up of e-classroom Infrastructure in 50 Medical colleges spread across the country.
Ministry of Health & Family Welfare, Govt. of India is implementing a green field project on e-Health including Telemedicine on National Medical College Network (NMCN) for interlinking the Medical Colleges across the country with the purpose of e-Education and National Rural Telemedicine Network for e-Healthcare delivery. The targeted group is Doctors, Professors and all Medical students of all 50 medical colleges.
Special feature/Achievements made under the project:
Supply, Installation, Testing and Commissioning (SITC), Training and Operations of requisite equipment for e-Classroom and Maintenance for 5 years.

Integration with Centralized Infrastructure at NRC (National Resource Centre)

Operation of the network for distant medical education using e-Class Rooms, Interactive Videoconference point to point/ point to Multi point, Webcasting, Web streaming etc.

Archival of live Lectures, educational content and maintenance of Database of the Content at NRC.

Operation of Data Centre at Central HUB with deployment of appropriate manpower with required knowledge & skill.

Imparting training in all the fields of technology involved in the project such as Information Technology (IT), Network, Video Conference etc., Business Process Reengineering (BPR) and Change Management.
Current Status of the Project:
ERNET India had successfully implemented the Ministry of Health and Family Welfare (MoHFW) project (on December 2018) in 50 Government Medical colleges including AIIMS. The installation, commissioning and Go-Live activities have been completed in all 50 medical colleges under NMCN Scheme. The established E-Classroom Infrastructure is being used extensively and till date 65,000+ sessions (initiated/attended) have been conducted in the fields of  Radiology, Microbiology, Gastro Surgery, Pediatrics, Urology, Palliative Care, CGR, CPC etc. on NMCN by various Medical Colleges benefitting Medical students/staff of 50 Medical Colleges across the country . During Covid period the NMCN e-classrooms have been used extensively for delivering vaccination awareness and other related sessions. The e-classroom infrastructure in the 50 medical colleges will be maintained and managed by ERNET India for 5 years.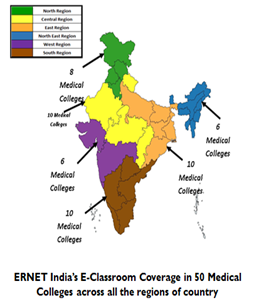 List of 50 Medical Clleges Under NMCN Scheme